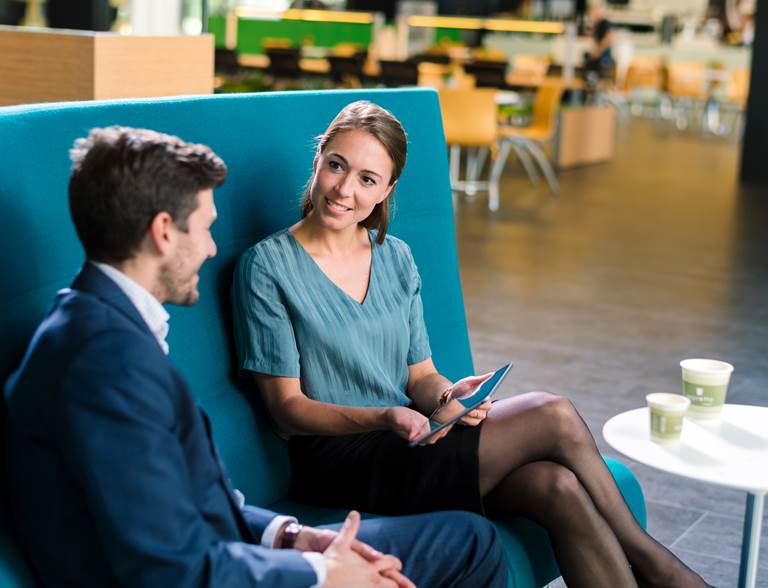 Why PGGM
Why working at the cooperative pension administration company in The Netherlands could be something for you? Read about what we stand for and what colleagues have to say about working at PGGM.
Working at PGGM. Together.
Working at PGGM means working with 1,500 colleagues for the pension of 4.4 million Dutch residents. Together, we are big enough to be significant. Yet we are also small enough to know each other and find each other. A horizontal organisation with minimum hierarchy, where there is plenty of scope for working together. We work from our office in the forest surrounding Zeist, where you are given every opportunity to achieve quality and connection in your work.
Working at PGGM. For everyone.
Diversity in who we are, what we do and for whom we do it. On behalf of our customers (pension funds), we administer the pensions of 4.4 million people, 2.8 million of whom work in Health & Welfare. With assets under management of 252 billion, we are one of the biggest institutional investors in the world. Differences in education, background, culture and views make PGGM the employer where everyone feels at home. No one is the same. Fortunately. Because diversity in thinking produces new insights. This is how we make a difference worldwide.
Working at PGGM. Through Lean and Agile.
Continuing to make an impact. We fulfil our ambition to remain the number one pension administration fund for the Health and Welfare sector by continuing to improve ourselves. At PGGM, you take an innovative approach to working on the retirement plans of millions of people. For example, by working according to the principles of Lean and Agile. 125 certified Green Belt colleagues keep PGGM on its toes. By constantly asking ourselves how we can work better, faster and/or more logically, we become more and more efficient.
Working at PGGM. Also for people with poor job prospects.
Do you have a disability? If so, PGGM offers you opportunities too. Through our Make It Possible programme, we offer opportunities for qualified and motivated candidates who are ready to get to work. A participation job is at least mbo4 level (secondary vocational education) for a minimum of 7 months and always matches your qualities and support needs. The Programme provides support, so that you can work sustainably. Inside or outside PGGM. Contact Nicole Nijveldt when you want to know more about our participation programme.
Stay informed!
Follow us on social media