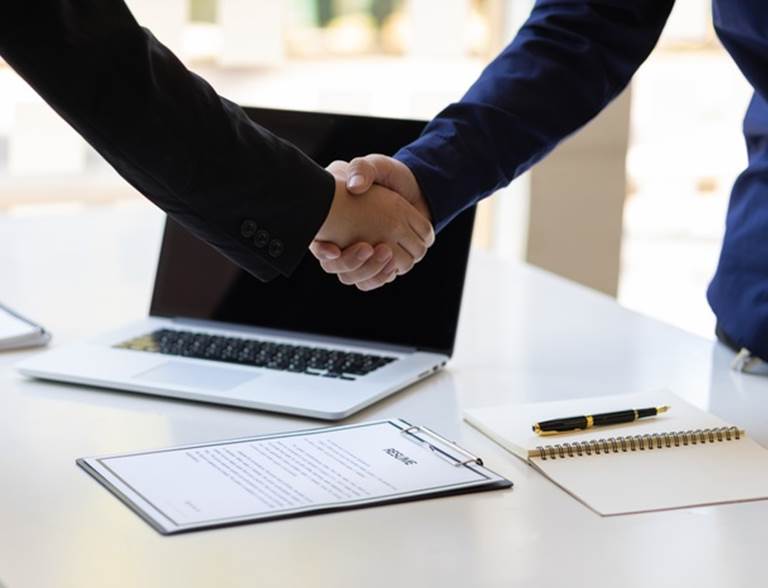 New composition of PGGM Asset Management board
With effect from 1 April 2022, the board of directors under the articles of association at PGGM Vermogensbeheer B.V. ('Asset Management') will have a new structure and a different division of responsibilities.
The chair is chief investment manager Geraldine Leegwater, who has held this post since the end of 2020. New to the board are Erik van de Brake, as chief transformation officer, and Danny Slots, as chief financial & risk officer. Board members Frank Roeters van Lennep and Arjen Pasma will be returning in new roles.
The directors of Asset Management are responsible for managing EUR 291 billion of invested capital (as at 31 December 2021) for various Dutch pension funds, including Pensioenfonds Zorg en Welzijn (pension fund for the healthcare and social welfare sectors). Apart from chairing the board as chief investment manager, Geraldine Leegwater is also a member of PGGM's Executive Committee, in which the company's various business units are represented.

Composition of the PGGM Vermogensbeheer B.V. board
Geraldine Leegwater (50), chief investment manager and chairwoman of the board.
Erik van de Brake (54), chief transformation officer, previously head of infrastructure investments since 2016. His responsibilities in this newly created management position will include developing policies for the digital transformation of PGGM Vermogensbeheer. He will also be responsible for the operational and administrative management of invested assets, including the requisite IT support. Van de Brake's appointment is subject to the approval of the Dutch Authority for the Financial Markets and the Dutch Central Bank.
Danny Slots (53), chief financial & risk officer, previously manager of staff investment management since 2020. Responsibilities include financial control and risk management at Asset Management.
Arjen Pasma (47), chief fiduciary investments, formerly chief risk & compliance officer; on the board since 2012. Responsible for the management from a total portfolio perspective and point of contact for PFZW for the fiduciary management task. This task includes managing the overall portfolio from the perspective of interest rates, currencies, ESG and balance sheet risks. Tasked with implementing the responsible investment policy.
Frank Roeters van Lennep (63), chief investment officer, previously chief investment officer private markets; on the board since 2016. Responsibilities include investing internally managed assets on both private and public markets. Chairman of Asset Management's Investment Committee.

Replacement of head of Infrastructure PGGM

Irina Frolova (50), currently head of Asset Management in PGGM's Infrastructure Team, has been appointed interim head of the team with effect from 1 April 2022. Preparations for a permanent replacement for the post that Erik is leaving is due to start. Irina will take over Erik's duties until 1 August 2022.

About PGGM
PGGM is a not-for-profit cooperative pension fund service provider. As a pensions administrator, asset manager and advisor to pension fund boards, it executes its social mandate: to provide for good old-age incomes for 4.4 million participants in the Netherlands. On December 31, 2021 PGGM managed long-term pension capital of EUR 291 billion worldwide. Rooted firmly in the Dutch healthcare sector, PGGM develops innovative provisions for labour market issues in this sector, alone or with strategic partners. Our member organisation PGGM&CO supports 764,000 workers and pensioners with a background in healthcare.
www.pggm.nl.
Share or Print Article
click on the icon