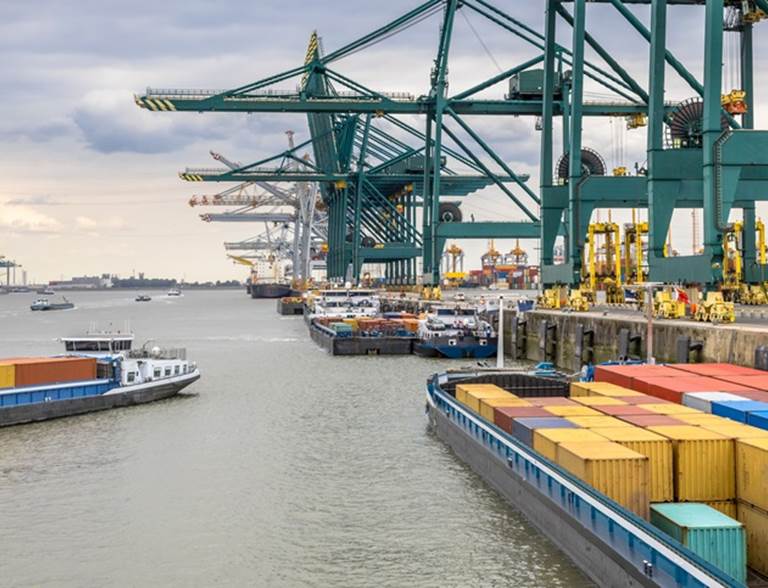 PGGM and Olmar join forces in logistic port infrastructure
First takeover in storage and transhipment facility Finnish seaport of Pori
Logistic service provider Olmar and pension investor PGGM have entered into a strategic partnership for developing an international platform for logistic port infrastructure. A first acquisition concerns port infrastructure (storage and transhipment) of the seaport near the Finnish city of Pori, situated on the Gulf of Bothnia.

The partners have the ambition to be active in multiple European ports by takeovers in the supply chain of raw material companies, in particular with respect to the logistic processing of raw materials like ores, minerals, agricultural bulk, and forest products. In addition to dry bulk, the list includes liquid bulk, general cargo, and container transport. Whereas PGGM has a controlling interest in the joint venture, the founders of Olmar hold the remaining interest.
The joint venture is mainly focused on strategic port infrastructure in which investment in digitisation and automation as well as in making processes sustainable is needed. In the next few years, many seaports have to electrify diesel-powered equipment to meet climate requirements. Transhipment cranes and rolling stock (including forklift trucks) need to be replaced, and emission-free shore-based power facilities for berthed sea-going vessels need to be installed.
Takeovers will be aimed at strengthening and extending logistic infrastructure which companies processing raw materials depend on and at making it more sustainable. In Pori, port logistics plays a key role in the supply chain of one of the major copper smelters in Europe. The port of Pori receives copper ore from various parts of the world.
The new owners have indicated that they want to invest for the long term in extending the company and the logistic activities in the port of Pori. Olmar was established by Olivier van Noort and Martijn Snijder, who have both been active for several decades in managing global logistics for the benefit of raw material flows.
Martijn Snijder, managing partner at Olmar: ,,We look forward to managing and further developing the port activities in Pori, together with the employees. In Pori, many cargo flows are handled that are critical to the energy transition, such as copper and sustainably harvested forest products. For sustaining new customers, we will collaborate closely with the Port authority of Pori. This platform of Olmar and PGGM has been set up for the long term and enables us to use our experience for the strategic customers. It also allows PGGM to generate a sustainable return on investment.''
Irina Frolova, head of Infrastructure Investments at PGGM: ,,With this new platform in collaboration with Olmar's highly experienced partners in this field, PGGM Infrastructure Fund enters a new market with great potential. The availability of long-term capital of our customers, including Pensioenfonds Zorg en Welzijn, allows us to build a profitable portfolio of a logistic infrastructure for raw materials that is important to Europe. These activities involve a constant flow of goods, the processing of which generates a stable cash flow. In the next few years, we want to invest in facilities that will contribute to strengthening the economic structure of Europe. The investment in the port of Pori is in line with our fund's long-term strategy to build a diversified portfolio that is consistent with the sustainability timetable required by the Paris Agreement.''
About PGGM
PGGM is a not-for-profit cooperative pension fund service provider. As a pensions administrator, asset manager and advisor to pension fund boards, it executes its social mandate: to provide for good old-age incomes for 4.4 million participants in the Netherlands. On March 31, 2022 PGGM managed long-term pension capital of EUR 273 billion worldwide. Rooted firmly in the Dutch healthcare sector, PGGM develops innovative provisions for labour market issues in this sector, alone or with strategic partners. Our member organisation PGGM&CO supports 764,000 workers and pensioners with a background in healthcare.
https://www.pggm.nl/en/
About Olmar
Olmar was purposely created to (co-)own & operate strategic logistics assets in long-term partnerships serving the commodities industry, such as port terminals. The strategic aim of Olmar is to build and invest in a platform of high-quality maritime logistics assets with a low risk profile, generating stable returns for its investors. Olmar was founded by its two managing partners Olivier van Noort and Martijn Snijder, both having a track record of over 20 years successfully managing and developing logistics assets, supply chain solutions and structuring organisations. Together with Olmar's key investor PGGM it has a perpetual investment horizon.
www.olmar.nl


Share or Print Article
click on the icon